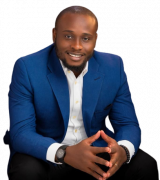 With a Masters degree in property Development from Birmingham city university, United Kingdom, and a Masters degree in Architecture and Environmental Design from University of Lagos.
Born into a humble but predominantly academic background .
Jide always had foresight and the ability to look beyond the present while imagining the nearest and farthest future even at a very young age .
With the privilege of primary school education at the University of Lagos Staff School and secondary school at the prestigious Kings College Lagos .
The path to imagination and thinking things through until reality began as he kicked off Architecture school at the University of Lagos where he attained a Bachelors and Masters degree in Architecture .
In addition to this Jide has a Masters degree in Property Development from Birmingham city University , United Kingdom.
Furthermore in constant pursuit of knowledge , jide has completed and still engages in several programs from The Harvard Business School with particular interest in strategy and sustainable development as well as the owner management program at Lagos Business School .
Having worked for some of the best Architectural firms and Property Development companies in the country .
My  team consisting of vast and highly-skilled professionals with a common vision to change the narrative and continuously strive for excellence and innovation, as we deliver value consistently across the entire group.
Academic Impact for the next generation.
Jide Adekola also initiated an academy to train skilled workers as well as students and professionalswho wish to attain their highest level of skill and leadership in the real estate space.
© 2022 All Rights Reserved.